Jantar Mantar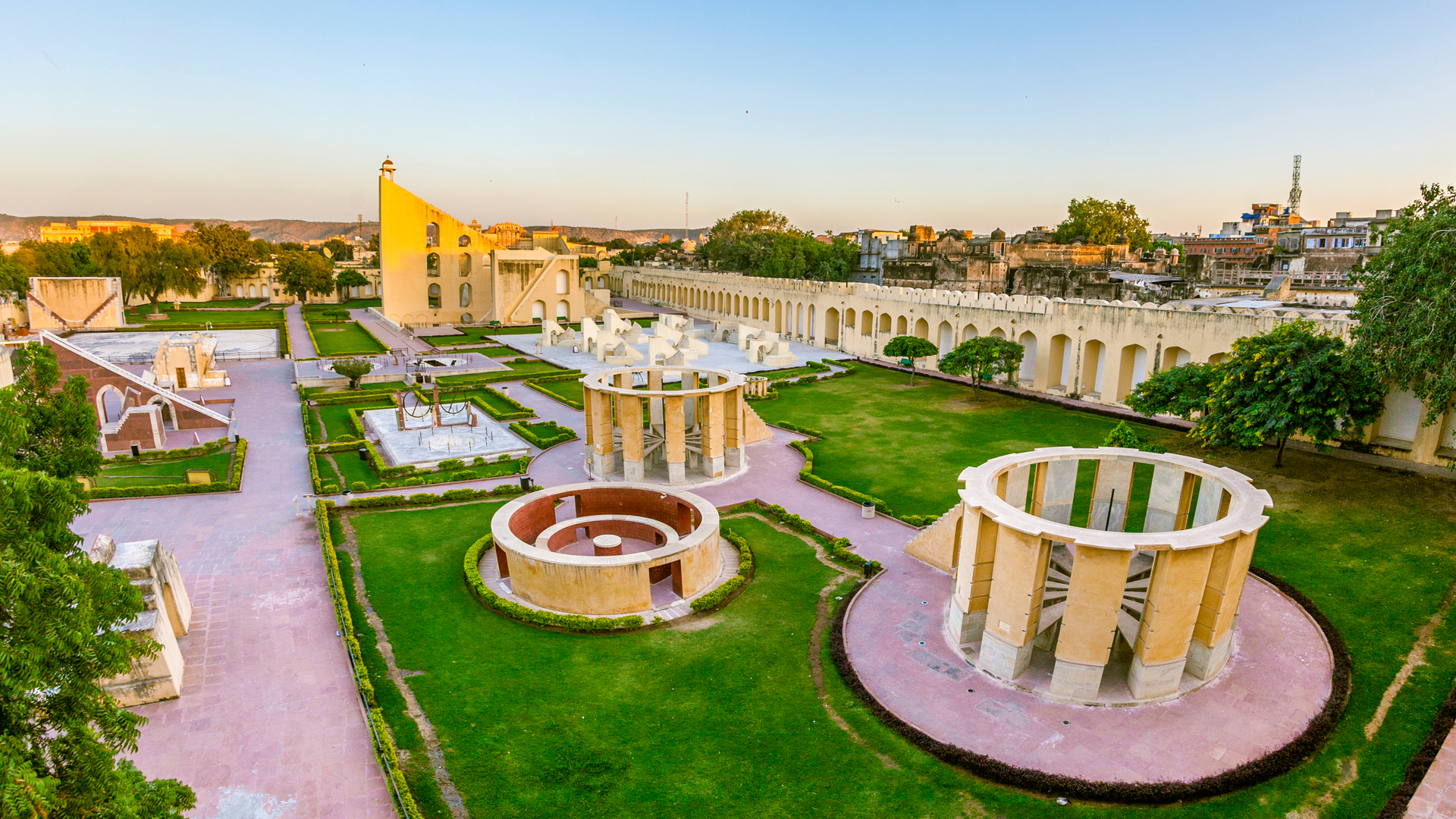 How To Reach
From East:-Lucknow-> Etawah-> Agra-> Dausa-> Jaipur-> Amer Fort , aproxi 575km
From West:-Barmer-> Balotra-> Jodhpur-> Nagaur-> Jaipur-> Amer Fort , aproxi 545km
From North;-Chandigarh-> Pehowa-> Charkhi Dadri-> Narnaul-> Manoharpur-> Jaipur-> Amer Fort , aproxi 480km
From South:-Mumbai-> Surat-> Udaipur-> Ajmer-> Jaipur-> Amer Fort , aproxi 1,164km
History
Built in the early 18th century by Maharaja Sawai Jai Singh II, it is a conglomeration of fixed stones and very large structures. Each has its specific usage. The main reason for it being built was because of the Maharaja's fascination with celestial objects and movement of different bodies in the sky.
Jantar Mantar in Jaipur has 19 large instruments with very specific purposes, the most popular and prominent one being- the Samrat Yantra. It is considered to be largest sundial of the country.
The complete construction of this magnificent monument was concluded in 1734. The main highlight of the instruments is to view observation of celestial objects with the naked eye. It is based on the Ptolemaic positional astronomy that has shared similarities amongst many civilizations over the years.
Architecture
The Jantar Mantar, Jaipur is a collection of 19 astronomical instruments built by the Rajput king Sawai Jai Singh II, the founder of Jaipur, Rajasthan. The monument was completed in 1734.
Things to do
1.Visit the Hawa Mahal
2.Explore the City Palace
3.Take a tour of the Albert Hall Museum
Interesting fact about Jantar Mantar
1.This monument is protected & maintained by Archaeological Survey of India.
2.The Samrat Yantra is world's largest sundial with height of 27 meters.
3.The Samrat Yantra sundial is precise up to 3 seconds
4.An amount of 100000-150000 Indian Rupees were spent on its construction in 18th century
Importance
The Jantar Mantar observatory in Jaipur constitutes the most significant and best preserved set of fixed monumental instruments built in India in the first half of the 18th century; some of them are the largest ever built in their categories.
Best time to visit
The best time of the day to visit Jantar Mantar in Jaipur is noon. During mid-day, the Sun is vertically above and it is easy to understand the process of interpretation of the readings of each instrument

You Want to know more about historical places in jaipur visit this link
https://swiggywala.com/top-10-places-you-must-visit-in-japur/