Varahi Devi Temple (Panchsagar Shaktipeeth)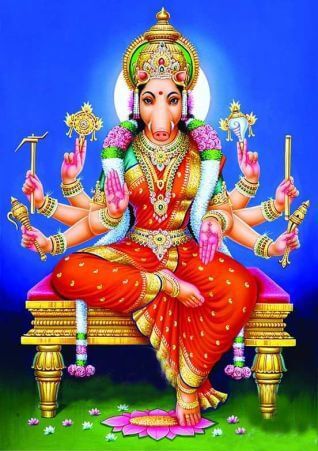 How to reach:-
From East:- Bhagalpur-> Patna-> Gazipur-> Saidpur-> Varahi Devi Temple, aproxi 510km
From West:-Jaipur-> Agra-> Lucknow-> Jaunpur-> Varahi Devi Temple , aproxi 890km
From North:-Goraakhpur-> Azamgarh-> Jaunpur-> Varahi Devi Temple, aproxi 235km
From South:-Ambikapur-> Renukoot-> Obra-> Robertsganj-> Varahi Devi Temple, aproxi 295km
History:-
Panchasagar Maa Varahi Shakti Peeth Temple dedicated to Goddess Varahi is onethe 51 Shakti Peeth Temple of Maa Sati located near Varanasi, Uttar Pradesh where it is said that while Lord Shiva had been carrying the body of Devi Sati with him, Lower teeth of Maa Sati was seen to fall down in this particular sacred place. The idol of Devi Maa is known as Varahi and Lord Shiva was provided the title of Maharudra (The angry one), which means an angry person. The word varahi is known as feminine energy which is in other word known as boar Avatar of Lord Vishnu.
The art and architecture of this Shakti Peeth is adorable. The stone that is used in the construction of this Shakti Peeth is really different and the glows when the sunlight falls on it. The enchanting views that is presented by the Shakti Peeth when it image falls in the water body, that is located just adjacent to it are mesmerizing. History to this place dates back in the time when it is said that the Lower teeth of Maa Sati fell to this place. Alternatively, according to the Matsya Purana it is also believed that Maa Varahi was created by Lord Shiva from the incarnation of Lord Vishnu –Varah (boar form) to kill a demon, who is mainly worshipped at nocturnal
Importance
If you desire prestige, honour and dignity, then Varahai Mata Mandir, Kashi is the right place for you. Your search to fulfil your desires ends here. If you are facing obstacles in your life, then this religious temple is the answer. Tantric practitioners also worship Varahai Mata.
Temple Timings:-05:30 AM and 07:30 AM
Know more about other shakti peetha's visit this link
https://swiggywala.com/the-shakti-peethas/