Amarnath Temple, Jammu & Kashmir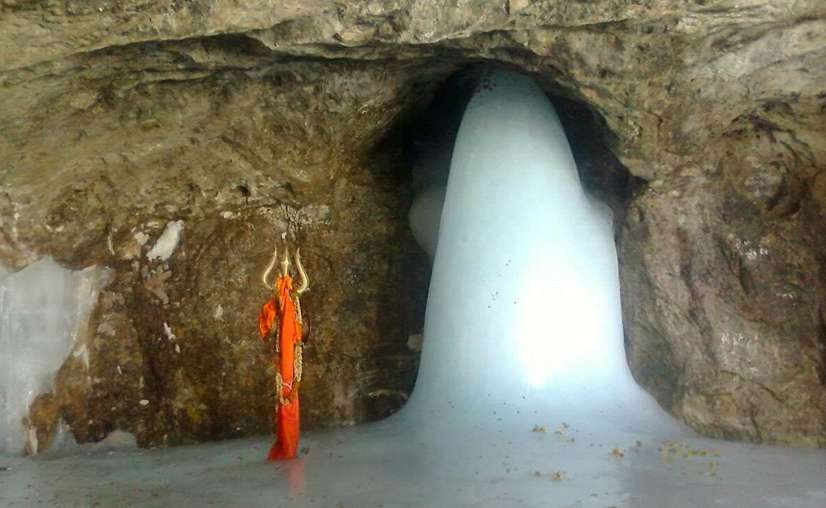 How to Reach:-
From East:-Lucknow-> Ghaziabad-> Ludhiana-> Jalandhar-> Pathankot-> Srinagar-> Baltal , aproxi 1,450km
From West:-Bikaner-> Amritsar-> Pathankot-> Srinagar-> Baltal , aproxi 1,030km
From North:- Amritsar-> Pathankot-> Srinnagar-> Baltal aproxi 520km
From south:– Hyderabad-> New Delhi-> Jalandhar-> Pathankot-> Srinagar-> Baltal aproxi 2,470 km
Note:-The Amarnath cave is the most important attraction in this city. There are two ways of reaching there, one is by taking a helicopter from Srinagar and landing at Panjtarni, which is 2 kms away from the cave or by travelling by car upto Baltal from which it is a 13.5 kms journey, traversable only by foot upto the cave.
History:-
While Lord Shiva played around with Mata Sati's burnt corpse and Lord Vishnu used his Sudarshan Chakra on the skull, the throat of Devi Adi Shakti is said to have fallen on top of Amarnath Cave, located in Jammu and Kashmir. A temple was built to protect and worship this part of Mother that later became known as the Temple of Amarnath.
The form of Mata Parvati being worshipped in Amarnath is that of Devi Mahamaya, and Trisandhyeshwar is the form of Shiva which is said to protect his wife's neck. According to mythology, Trisandhyeshwar had been named by Lord Shiva to shield Sati's throat from evil forces and nature's vagaries. Today, Amarnath is one of the world's most famous religious Hindu sites, and also a key element of Kashmir Tourism. Between Kashmir's beautiful valleys lies a legend that can transform and is transformed into an inseparable part of spiritual devotion through history.
Importance
The Amarnath Cave has a special significance in the Hindu religion. As per legend, Lord Shiva had chosen this cave to describe the secrets of immortality and formation of the universe to Parvati. It is believed that once Parvati asked Lord Shiva about when He started wearing the beads of heads
Best time to visit
Usually, till the end of June, the Amarnath cave is open to the public. Hence, the best time to visit June till August can be considered as an option.
Temple Timings:- 5:00 AM – 9:00 PM

Know more about other shakti peetha's visit this link
https://swiggywala.com/the-shakti-peethas/