Baidyanath – Deoghar In Jharkhand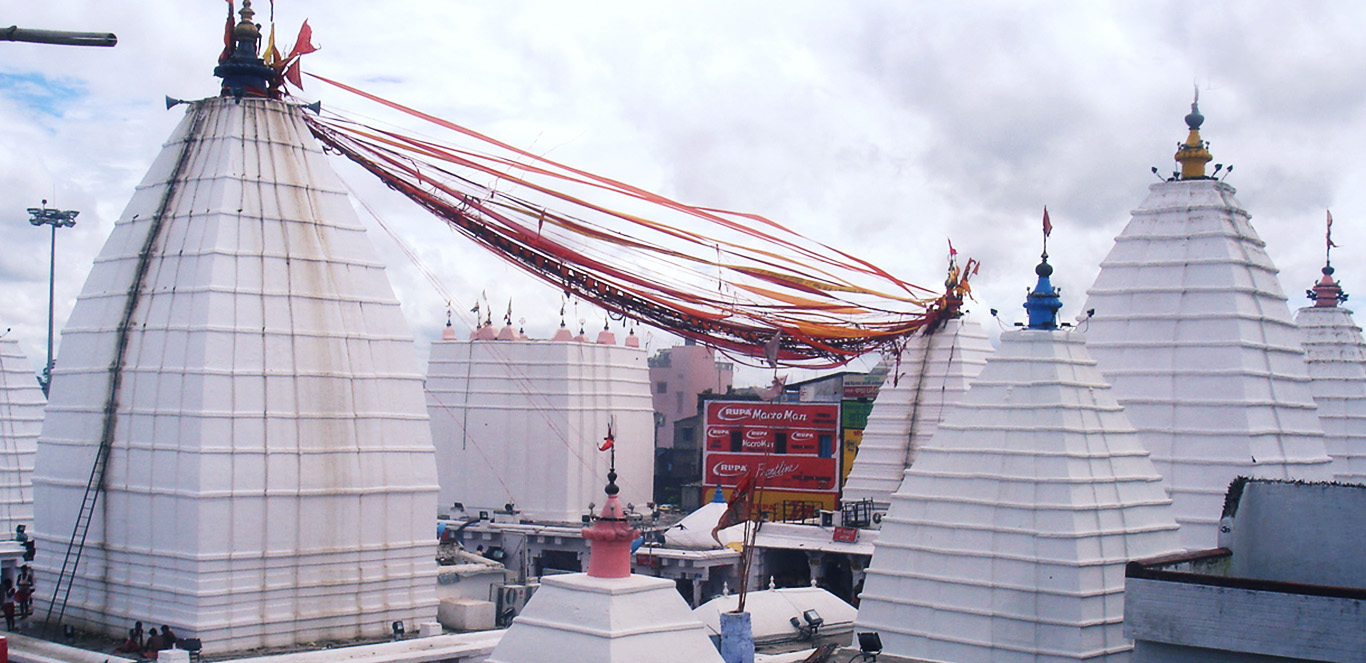 How to Reach:-
From East:-Kolkata-> Burdwan-> Dhanbad-> Baidyanath , aproxi… 320 km
From West:-Jaipur-> Agra-> Lucknow-> Azamgarh-> Baidyanath aproxi… 1320km
From North:-Haridwar-> Gorakhpur-> Baidyanath , aproxi…. 1,290km
From South:-Hydrabad-> Jadalpur-> Ranchi-> Baidyanath aproxi… 1,400km
Story:-
It is said that demon king Ravana prayed to Lord Shiva seeking boons that would make him omnipotent. As a sacrifice, he offered each of his ten heads one after another. This pleased Lord Shiva, who came down to earth and cured the injured Ravana. The act of curing made Lord Shiva equivalent to a doctor or vaidhya/baidhya. Hence, the name Baidyanath.
Another version says that Ravana, one of the greatest devotees of Lord Shiva, requested him to make Lanka his home. The Lord could not acquiesce to that but said that the Shiva Linga would be as good as his presence. He placed the condition that while transporting the linga, Ravana must not put it down anywhere. If he did, the place where he put it down would be the site of the linga. As Ravana was transporting it to Lanka, the gods feared the consequences of the linga at Ravana's kingdom and requested Lord Varuna, lord of the waters, to break his journey. Varuna entered Ravana's stomach, making the demon king want to relieve himself. He descended to the ground and handed the linga to a Brahmin (Lord Vishnu in disguise) and asked him to hold it.
As soon as Ravana went to relieve himself, Lord Vishnu placed the linga on the ground and disappeared. When Ravana returned, he realized that he had been tricked. The linga was fixed to the ground. He tried with all his might to displace it. However, he could not. So, he paid obeisance to it right there. This spot is believed to be Deoghar.
This temple doubles as a Shakti Peetha as well. When Lord Shiva's first consort, Sati immolated herself after her father Daksha's yagna (sacrifice or offering), the grief-stricken Lord, roamed the world with her body. Lord Vishnu cut it up into 52 parts. It is said that her heart fell at Deoghar – making it a Shakti Peetha.
Baidyanath Dham has been famous since the rule of the last Gupta emperor, Adityasena Gupta in the 8th century AD. Mughal emperor Akbar's brother-in-law built a pond at Deoghar known as Mansarovar. This temple appears to have maintained its importance even during the Muslim rule in India.
Temple Open hours:- 4:00 AM – 3:30 PM & 6:00 PM – 9:00 PM

For the information of all other jyotirlingas go through the below link
https://swiggywala.com/asevh/