Omkareshwar – Khandwa In Madhya Pradesh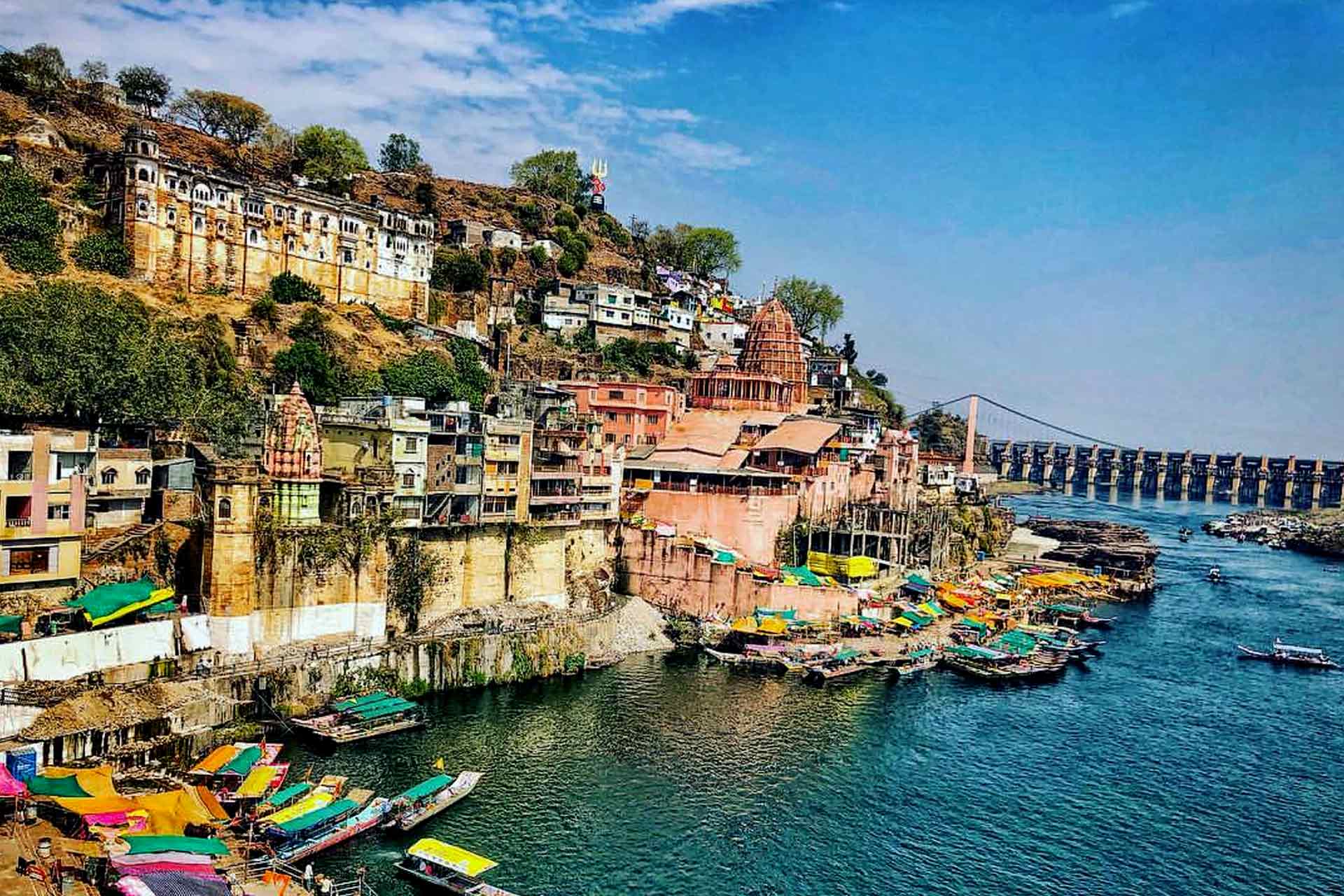 According to the Hindu legend, Vindya, the deity of the Vindhya mountain range was worshipping Lord Shiva to conciliate himself from the sins committed. Thus, he created a sacred geometrical pattern & a lingam made of sand and clay. Shiva was pleased with his worship and appeared in two forms, Omkareshwar & Amaleswara. Since the mud mound was in the form of 'Om', this island was known to be called as Omkareshwar.
The second story related to Mandhata and his son's penance. King Mandhata of Ikshvaku clan ( an ancestor of Lord Ram) worshipped Lord Shiva here until the Lord manifested himself as a Jyotirlinga. Many scholars also narrate about how Mandhata's sons, Ambarish & Muchukunda had practiced severe penance to please Lord Shiva as a result of which the mountain is named Mandhata.
The third story was from the Hindu scriptures which says once upon a time there was great war between Devas (Gods) & Danavas (demons) in which the Danavas won. This was a big setback for the Devas and so they prayed to Lord Shiva. Pleased with their prayers, Shiva emerged in the form of Omkareshwar Jyotirlinga and defeated the Danavas.
Places to visit in omkareshwar
Omkareshwar Mandir
Gomukh ghat
Omkareshwar Baandh
Kedareshwar
Shiri Rinmukteshwar Mandir
Narmada Kaveri Sangam
Gauri Somnath
Patali Hanuman
Siddanath
Mamaleshwar
1.Gomukh ghat


The name of Gaumukh Ghat is derived from the Gaumukh located on this ghat, where a continuous stream of water flows out from the mouth of the stone statue of the cow, this place is of great importance in Hindu religion, devotees also lift the Narmada Parikrama from this ghat. The area of ​​the ghat is 1100 sq. ft. Mamleshwar temple is near from here.
2.Omkareshwar Baandh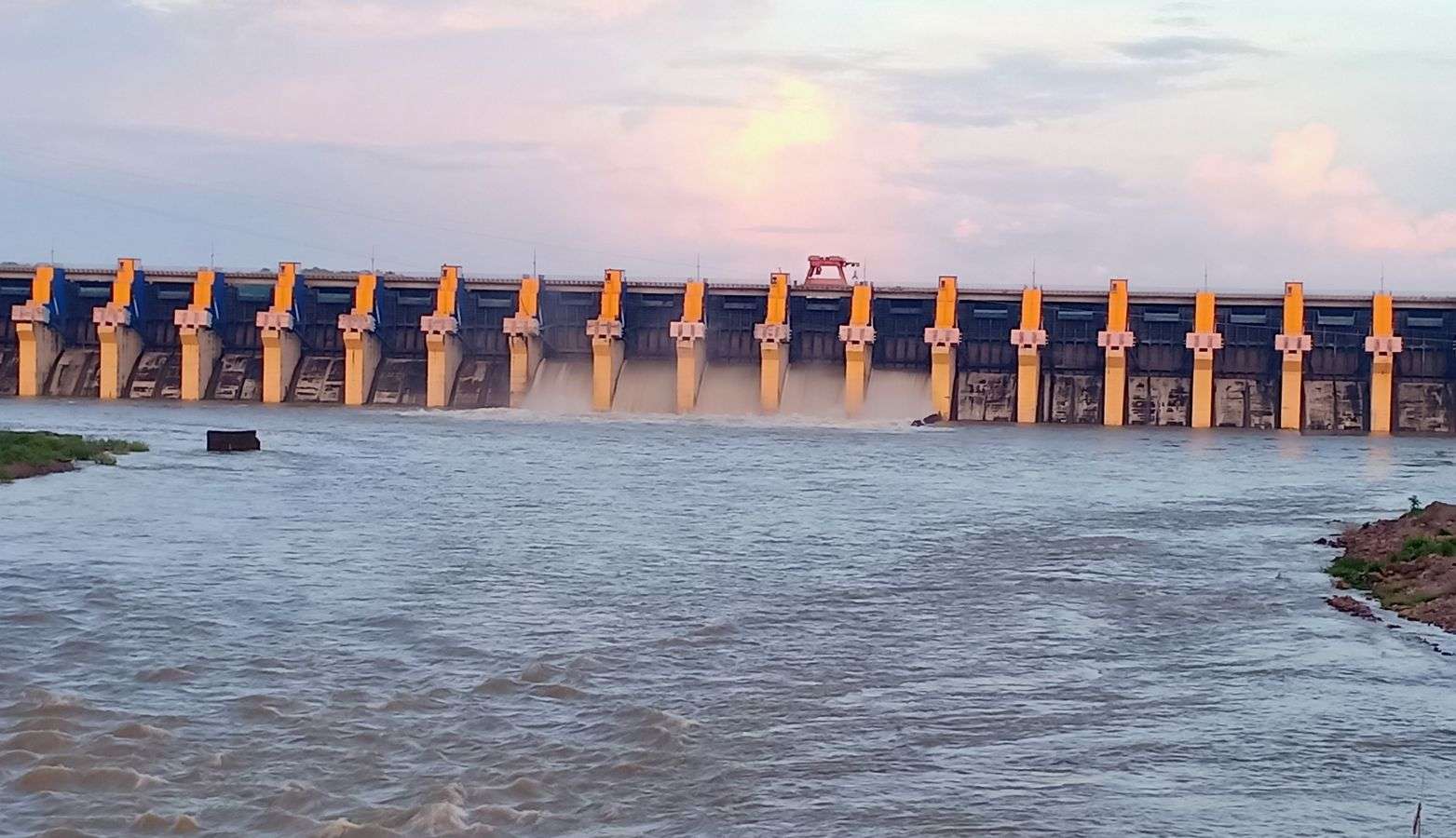 Omkareshwar is a beautiful island situated in the middle of the Narmada River, where one of the 12 Jyotirlingas (12 Jyotirlingas) exists. This place is very famous and people from different states of India come to this place to visit Jyotirlinga.
A dam has also been built on the river Narmada at this place which is known as Omkareshwar Dam. Omkareshwar Dam has been constructed near the Omkareshwar temple. This dam is a hydroelectric project, which generates electricity. It also provides irrigation water to the surrounding area through this dam.
When you go to see Omkareshwar Jyotirlinga, you get to see this dam. It is a huge dam built on the Narmada River. It provides water to millions of acres of agricultural fields. It is one of the 30 dams built across the Narmada River. Its objective is to provide electricity and irrigation in central India.The dam has a power generation capacity of 520 MW. This dam is spread over an area of ​​several square kilometres, which is filled with water, in which beautiful islands have been formed. On which various tourism projects are being developed. Hotels have also been made to stay in these islands.
You can also enjoy boating near Omkareshwar Temple. You can cross the Narmada river to reach the Omkareshwar temple by boat. You can feel great coming here. One, you can visit the Jyotirlinga of Omkareshwar temple and secondly you can also visit the dam here. Apart from this, there are many places of interest here, where you can go.
3.Kedareshwar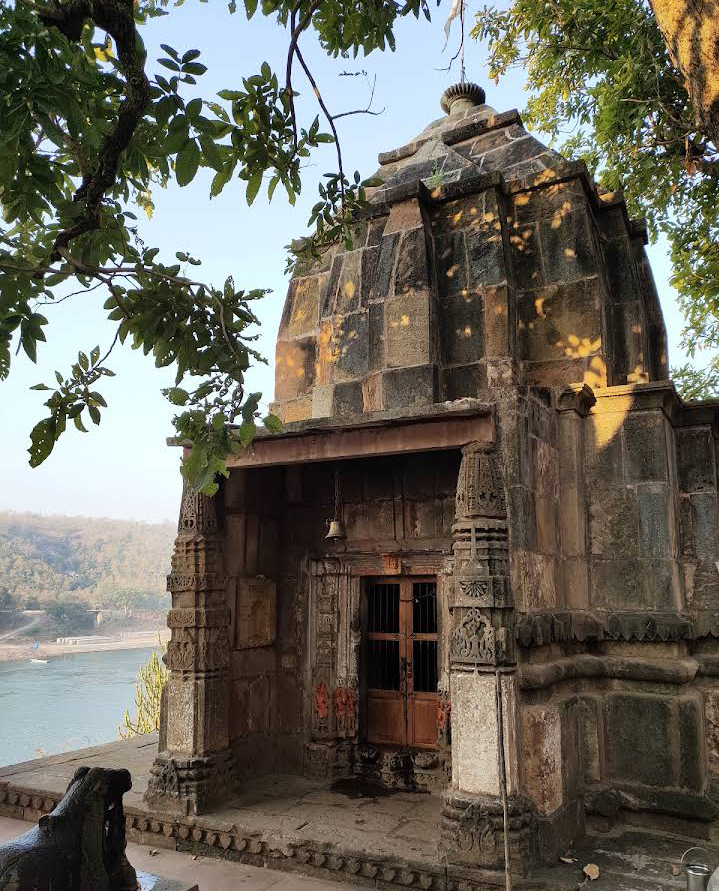 Dedicated to Lord Shiva, Kedareshwar Temple is a highly revered temple in Varanasi. Such is the sacred significance of this Hindu shrine in Varanasi that it is also compared with the very famous Kedarnath of Uttarakhand. Located at Kedar Ghat near Sonarpura road, Kedareshwar Temple is one of the ancient sacred sites in Varanasi. The temple has a stone linga which is said to have appeared spontaneously. On any day, the temple can be seen dotted with hundreds of devotees enchanting prayers and paying homage to the deity. This surreal setting makes Kedareshwar temple one of the best places to visit in Varanasi.
4.Shri Rinmukteshwar Mandir


The RIN mukteshwar Mahadev Temple is an ancient temple located near the Narmada Kaveri Sangam in the Omkar Parvat Parikrama region. Saint Shri Bajrangdas Ji told that this temple is Mahabharatkalin. Pandavas did penance of Lord Shiva during the exile and established Shivling by doing penance of Lord Shiva. Here, with great faith, by offering gram lentils to God and praying for debt.
5.Narmada Kaveri Sangam


The holy Maa Narmada Kaveri Sangam is in Omkareshwar. Here the two sisters meet twice. Before Omkareshwar Dam, both of them get separated for the first time. After separation, both of them build Omkar Parvat, Where Bhagwan Shankar himself lives with his family. The two rivers merge again just after Omkareshwar. Which is called Narmada Kaveri Sangam
On the east side of Mount Omkar, the first confluence of river Kaveri with Narmada is a mile before Omkareshwar. The holy place where Kuber ji's temple is. This place is the place of Bramhaji, the creator of the physical world. Earlier there was a temple of Bramhaji in which the beautiful black stone statue of Bramhaji was seated. Kubera ji had done penance at this place and obtained the position of overlord of the Yakshas with the blessing of Brahma. At one time Ravana defeated Kubera in battle and took away all his wealth with Navnidhi. After losing everything, Kubera ji did a harsh penance at this place of Omkareshwar. Pleased with the austerity of Kubera Ji, Bramhaji again conferred the post of Dhanadhipati and Yakshadhipati with Navnidhi to Kubera Ji.
After about 1 kilometer from the first confluence, both rivers separate. The Kaveri flows towards the north of Omkar Parvat and the Narmada flows to the south. And till the Narmada Kaveri Sangam, the two flows together, forbidding each other again. Due to which this mountain becomes an om shaped island and takes the form of omkar. This holy place is called Narmada Kaveri Sangam.
This place is very important. To complete the wish, travelers build stone houses at this place. The legend behind this is that the more storey buildings you build by placing stones on top of each other, the more storey buildings you get in the future. There is also an ancient Shiva temple at this place, during which the pariksha is done and after worshiping, the water is left for the Omkar parikrama and farther.
6.Gauri Somnath


At a distance of 1 km from Omkareshwar Temple, and 2 km from Omkareshwar Bus Station, Gauri Somnath Temple is a revered Hindu shrine located on Mandhata Island in Omkareshwar, Madhya Pradesh. It is one of the biggest temples in Omkareshwar, and among the best places to visit during Omkareshwar Trip.
Located on Omkar Parikramapath, Gauri Somnath Temple is believed to have been built in the 11th century AD and is one of several shrines dedicated to Lord Shiva in Omkareshwar. The temple is very well known for its huge Shivlinga and statue of Nandi. Legend says that the temple lingam had the ability to show future births until it was damaged by Emperor Aurangzeb, after which the powers were lost forever. Also, no one apart from an uncle and nephew pair can touch their hands while embracing the lingam from opposite ends.
Gauri Somnath Temple has been constructed in the Bhumji style of architecture. The temple has three storeys and has the shape of a peahen. With its rising curvilinear tower and high platform, the temple has a striking resemblance to the Khajuraho temples. The sanctum sanctorum houses a gigantic six feet tall shiv linga made of a black stone with a shiny black texture. There is a sitting Nandi(Scared bull) of similar stone outside. Also, one can find the idol of Goddess Parvati, consort of Shiva, behind the linga. Visitors have to climb 200+ stairs, arising from the ghat, to reach the temple.
7.Patali Hanuman


Swayambhu Shri Patali Hanuman Mandir is situated near famous Shree Chandra Moleshwar Mahadev Mandir towards Shri Mahalakshmi temple road in South Mumbai. Temple is around two hundred years old. Shri Hanuman murti is self manifested from below the earth therefore called Swayambhu Shri Patali. Devotees visited this temple especially on Tuesday and Saturday.
8.Siddanath


A fine specimen of early medieval times, the temple is a perfect illustration of Brahminic culture and Indo Nagara style architecture. The entire temple is ornamented with figures and mural art paintings. Its unique feature is a frieze of elephants carved upon a stone slab at its outer perimeter. There is a cluster of Hindu and Jain temples, all remarkable for their skillful use of varied architectural modes. Consider it a must visit the site!
9.Mamaleshwar


Mamleshwar Jyotirling temple is a five-storied temple with pagoda on each floor. Moreover, There are six more temples in this temple compound. The best stone temple is now under archeology. Lord Shiva is been worshipped here in the form of Partheswar Linga since the time of Goddess Ahilya Bai. Mamaleshwar Mahadev Temple situated on the south bank of Maa Narmada with the skyscraper flag. This flag is constantly waving. There are many temple in Mamleshwar temple compound. All these temples are protected under the patronage of the Central Archaeological Department
Importance
As a manifestation of the mystic syllable, believed to precede the creation of the universe, Omkareshwar represents the holiest of kshetras (sacred space). It is all the more holy as Shiva is believed to have been manifested here as one of the 12 jyotirlingas, or transcendent lingas of light.
Things To Do
Since Omkareshwar is primarily a holy city, your list of things to do in this city will consist of visiting the famous temples and religious centres. Omkareshwar is home to one of the twelve jyotirlingas that adorn India. This jyotirlinga is preserved inside the famous Omkareshwar temples that exudes great spiritual aura and devotion. Apart from this temple, there are some other temples as well that are worth seeing. These are: The Siddhnath Temple which is a classic example of early medieval Brahminic architecture and is known for its wall paintings of elephants, over 1.5 m high, carved on a stone slab. You can also visit the 10th century Satmatrika Temples and the Kajal Rani Cave situated nearby for a pure spiritual indulgence. Other beautiful temples include Ranmukteshwar Temple, Mamleshwar Temple among many. Ahilya ghat is also a nearby attraction where you can spend some time for spiritual reflection. Apart from the temples, the natural beauty and local corners are worth exploring and noticing here.

Insteresting Facts About Omkareshwar
1.Also called the called Omkar Mandhata temple as it was because of Mandata or Ikshvaku dynasty that brought the linga to this place
2.Most noted aspect about this temple structure is that it is spread across five storeys and has the Nagara architecture style
3.Beautiful carved balconies can be seen which display the skilled craftsmanship of expert artisans of yester years
4.It stands on top a lovely island called Mandhata which is shaped in the form of the OM symbol
5.Temple is situated in the small, quiet and peaceful town of Omkareshwar in Madhya Pradesh
6.An interesting feature of this temple is the hanging bridge over River Narmada which is called the Jhula Phul
7.Island is surrounded by confluence of River Kaveri and Narmada
8.In addition to touring the temple and praying to the Lord, you should also go through the Omkareshwar Parikrama
9.Temple was heavily raided during the Muslim period however it regained its luster and today it is one of the most visited pilgrimage spots n the country
10.It is said that the Linga was actually in another smaller temple and was then brought into the current structure
Best Time to Visit
The best time to visit Omkareshwar is from October to March. However, you can also visit during the monsoons as rains are mostly average here. The town is also very attractive during the festive season of Dusshera and if possible, you should visit this place during that time to see the illuminated town