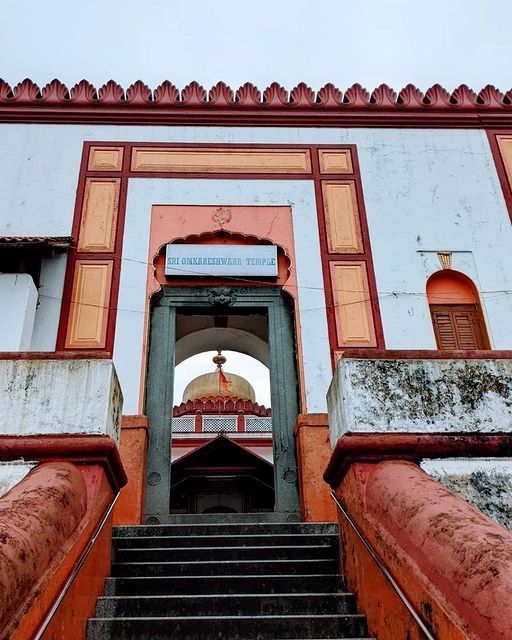 📍 Omkareshwar Temple, Madikeri
The Omkareshwara Temple was constructed by King Lingarajendra second in the 18th century.
….
The Omkareshwara Temple displays a unique style of architecture. The temple has a design that is quite similar to the ones seen in Muslim dargah. The structure of the temple comprises of a large central dome with four minarets standing at the four corners.
The interesting thing to note is that the temple lacks a pillared hall as is common in most temples of India. The Shivalingam is installed near the entrance door. The history of the temple has been inscribed on a copper plate and fixed on the entrance door frame.
The Omkareshwara Temple is a large and simple structure with a peaceful ambiance. A water tank exists inside the temple premises. The tank has a mantapa built in the centre. This mantapa is connected by a walkway. A large number of fishes can be seen playing in the water of the tank at any time. As such, the tank attracts the attention of the tourists and devotees who visit the temple.
#swiggywala
#kannada#tulu#uttarakannada#bangalore#mysore#udupi#mangalore#Belgavi#shimoga#coorg#dakshinakannada#hubli#dharwad#davanagere#bagalkote#tumkur#hampi#gokarna#gulbarga#raichur#chamarajnagara#Chitradurga#gadag#Bellary#hassan#bidar